Medals are earned for completing certain challenges. They give boosts such as increase defence, attack, luck and several others. You can only wear one at a time. Usually, harder challenges yield better medals.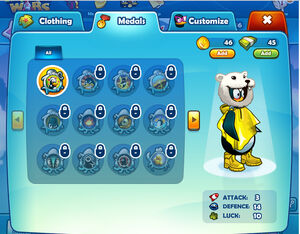 The Medals
Medals
Required Challenges
Boosts
Bandaid Badge
Splat!
+6 Defence
Medal Of Pain
Medal Of Pain Too Close For Comfort,Oops Wrong Button, Damager, Meat
+15% Attack
Overkill Trophy
Overkill Trophy Instakill!, Overkill!, Annihilation!

+10% Attack

+10% Luck

Terraformer Certificate
I Hate Boxes, Boxageddon, Scorched Earth
+15% Bigger Explosions
Underdog Badge
Not so Pretty Now, Scavenger, Down To The Wire
+20% Coins
Flame Badge
It Burns!
+6 Attack
Eagle Eye Badge
Careful Calculations, Eagle Eye, Aiming Is For Suckers, Artillery Expert.
+ 25% Knockback Resistance
Marine Certificate
Master Arsonist, Out Of The Frying Pan..., Glub Glub, Let Me Help You
+15% Jump Power
Trap Master Trophy
Beep Beep Boom!, Take That!, Hidden Dangers, Close Call
+8% Speed
Creativity Medal
March of the Boxes, Box Angry!, To Me My Minions, Terrible Boat
+50% Damage to Objects
Sharpshooter Trophy
Nailed It!, Sniper, Bullseye, Two Birds With One Stone
-20% Shot Spread
Trophy of Wealth
Hooray Money!, Filthy Rich, Ridiculous Lucre
+10% Coins & Xp
Trophy Of The Veteran
Down In The Trenches, Front Lines, Veteran, Lean Mean Fighting Penguin

+10% Attack

+10% Defence

Ribbon Of Expertise
Learning The Ropes, Hunter, Growing Up, Standing With The
+20% more Xp
Mark Of The Assassin
Assassin, Ravager, Eviscerator

+50% Attack

+50% Accuracy

Insanity Medal
Variety Is The Spice Of Death, Armageddon, Penguin-Fu, Overeater

+75 Attack

-25 Defence
| | | |
| --- | --- | --- |
| Threads Of Fate Medal | Twins!, Master Warrior, Nick Of Time, Wardrobe Malfunction | + 100 Luck |
​
Ad blocker interference detected!
Wikia is a free-to-use site that makes money from advertising. We have a modified experience for viewers using ad blockers

Wikia is not accessible if you've made further modifications. Remove the custom ad blocker rule(s) and the page will load as expected.